Everlight Americas Inc.
Everlight Americas Inc. is the North American Sales arm of Everlight Electronics – a leading global Optoelectronics manufacturer of low and high Power VISIBLE LED's, SMD and Thru-Hole Lamps, Digital Displays, INFRARED Emitters, Optical Sensors, Fiber Optic and Optocoupler components. We provide solutions for various applications in the lighting, consumer, computing, automotive, telecommunication and industrial market segments.

Everlight's rapid growth to become a top ten Optoelectronics supplier is the combined result of its well-engineered products, highly efficient manufacturing facilities and extensive global supply chain. Founded in 1983, Everlight is headquartered in Taipei, Taiwan with over 5,600 employees and sales offices in China, Hong Kong, Japan, Korea, Singapore, Malaysia, India, Germany, Sweden, U.S.A. (also supporting all North American countries - Canada, Mexico, etc.).
Mission Statement
To Innovate, Design, Manufacture and Market high performance LED components combined with effective customer service, enabling growth in our market share while maintaining Everlight's position as a leading, worldwide company, with the fundamental Goal of improving the overall quality of life.
Business Philosophy
Everlight is dedicated to certification, R&D, production, quality, marketing and global customer service. We have always placed customer satisfaction as our top priority and we're constantly working on improving production procedures, productivity, production flexibility, and manufacturing efficiency.
Everlight Manufacturing facilities are located in China (Suzhou; Guangzhou) and Taiwan (Tu-Cheng; Yuan-Li).
Excellence
Excelling in professionalism with outstanding results and breakthroughs in company and employee improvement.

LED Innovation
Exploring new ways of thinking and working, inventing innovative solutions while creating value.

Integrity
Being ethically unyielding and honest, matching our behaviors to our words and taking responsibility for our promise.

Top Quality
Providing the most optimal and best quality solutions through consistent and continuous improvement.

Execution
Setting high performance goals, believing in our mission and taking accountability with courage.
See below for a timeline of Everlight Corporate History: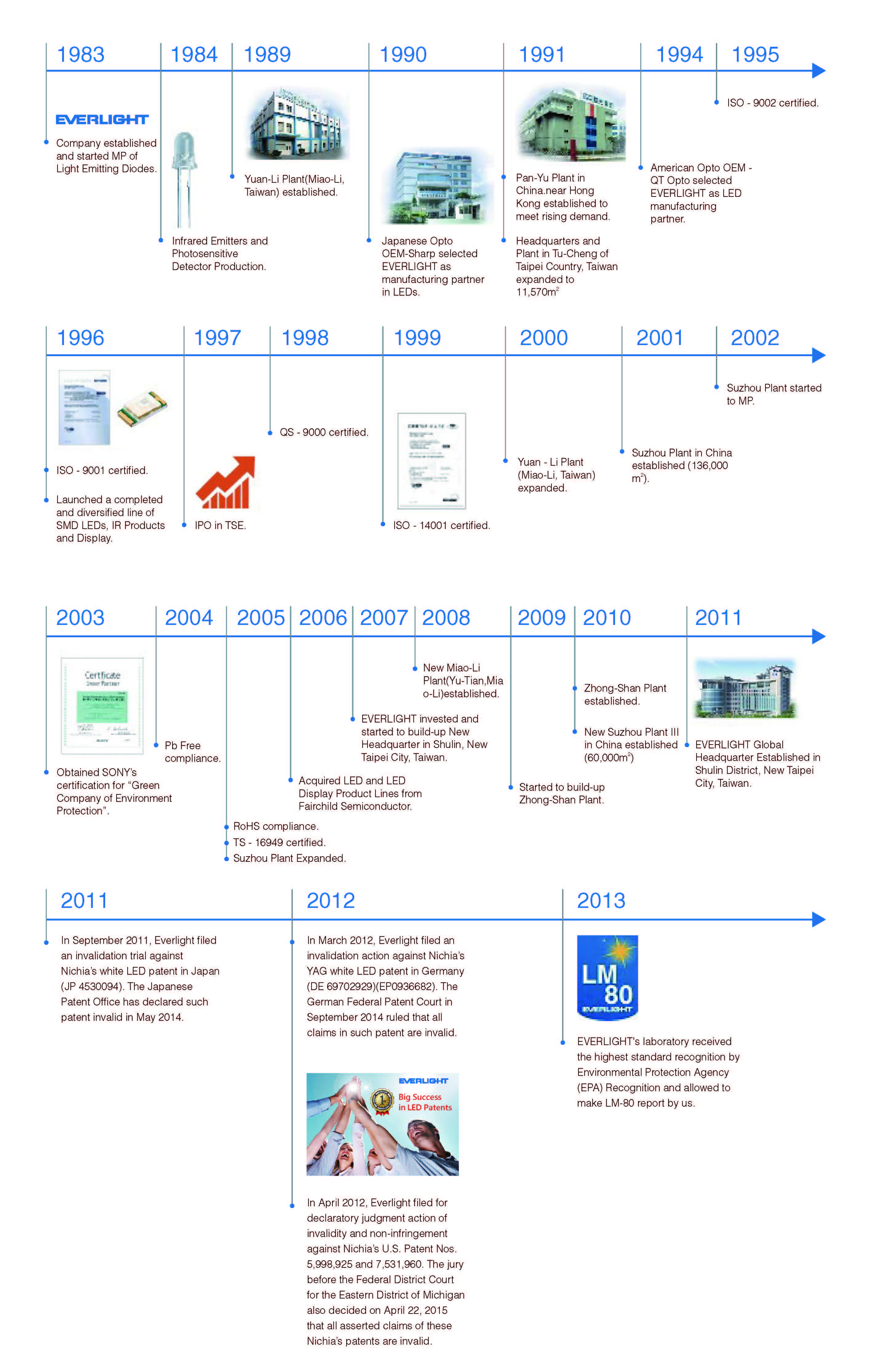 Corporate Social Responsibility
As a leading LED design and manufacturing company, Everlight embraces social accountability by providing employees with all the necessary training in safety, health, and environmental policies. Each employee is expected to set a good example. Everlight commits to adhere to the policies below by integrating company resources and continually making related improvements.
Legal Compliancy
Everlight Americas and all its employees are required to comply with all domestic and international health, safety, and labor laws and regulations.
Wages and Benefits
Comply with all wage relevant domestic and international regulations, and clearly disclose related management and documents to employees.
Health and Safety
Active promotion of the OHSAS 18001 management system is required. This system provides for and ensures the health, safety and cleanliness of the work environment.
Environment Standards
Active promotion of the ISO14001 management system is required. This system focuses on environmentally friendly product designs and compliance with global environmental protection regulations.
Communication
Everlight Americas utilizes internal and external communication channels. Open communication is strongly encouraged and recommended between employees, customers, management and investors. And periodically information regarding achievements or new policies are disclosed to interested external parties through company web site, e-mail and/or public announcement.
Moral Standards
The Company accepts only the highest moral standards and employee integrity. Bribery, corruption and artifice are strictly prohibited. The Company maintains the necessary policies and procedures to prevent, detect and monitor such prohibited behavior. Company's customers are treated with high respect and professional manners, and Company takes all the efforts to ensure privacy and protection of its customers.
Intellectual Property and Confidentiality
The Company respects and will protect the intellectual property, proprietary information and confidential data of its customers, partners and suppliers. Accordingly, employees, suppliers and consultants are required to sign Nondisclosure and Confidentiality Agreements.
Participation and Encouragement
Actively participate in the social community activities; also, encourage related partners to promote social accountability together through audit, declaration, or announcement.
Conflict Minerals statement
Democratic Republic of Congo and near countries mining the metal of Gold(Au)、Tatalum(Ta)、Tungsten(W) and Tin(Sn) have been caused severe human rights and environments problem. These metals are called "Conflict Minerals". In respect of international human rights, Everlight Electronics Co., Ltd. hereby makes the following representation concerning minerals extracted by way of armed conflict and human rights violation:
Everlight will take related measures to avoid using Conflict Minerals, including asking suppliers to conduct due diligence to confirm whether their products include Gold (Au), Tantalum (Ta), Tin (Sn), Tungsten (W) from the Republic of Congo, and if necessary, provide investigation reports.
Everlight has been paying close attention the issue of conflict metals and follow international convention requests. We will devote ourselves to improve conflict minerals problem in order to preserve the rights of customer and social responsibility as our objective.
Everlight will take all necessary measures to replace the Conflict Metals, if any, used in supplier's product.